Цена: 4 200,00 грн
BOSS MR101
10 inch SINGLE Voice Coil (4 Ohm) 600-watt Subwoofer


Морской сабвуфер
• Weather Proof One 10″ Woofer with SINGLE 4 ohm Voice Coil
• 600 Watts MAX 300 Watts RMS Power Handling
• 85dB Sensitivity, 44 Hz Resonant Frequency
• Polypropylene Cone and Rubber Surround

General Specs
Subwoofer Size
10″
Peak Power Handling
600 Watts
RMS Power Handling
500 Watts
Voice Coil Configuration
Single
Impedance
4 Ω
Mounting Dimensions
Mounting Diameter
9.25″
Mounting Depth
4.5″
T/S Parameters
Qes
0.583
Qms
6.702
Qts
0.55
Vas
1.234 CuFt
Xmax (One-Way)
9.65 mm
Sensitivity (1W/1m)
85 dB
System Features
Package contains 1 subwoofer

Fully Marinized
Fully Marinized is the term we use for our Marine and Outdoor
products that are Weather Proof. We integrate high-tech,
state-of-the-art waterproofing materials plus special UV
coatings for plastic surfaces, coated circuit boards and
connections to protect the product against the harsh outdoor
elements and resist corrosion.

Single Voice Coil
A subwoofer with a single voice coil can be powered by an
appropriately matched amplifier or can be combined with
multiple single voice coil subwoofers to achieve a
variety of impedances to match your amp set up.
Single voice coil subwoofers are generally
ideal for low to medium-power applications.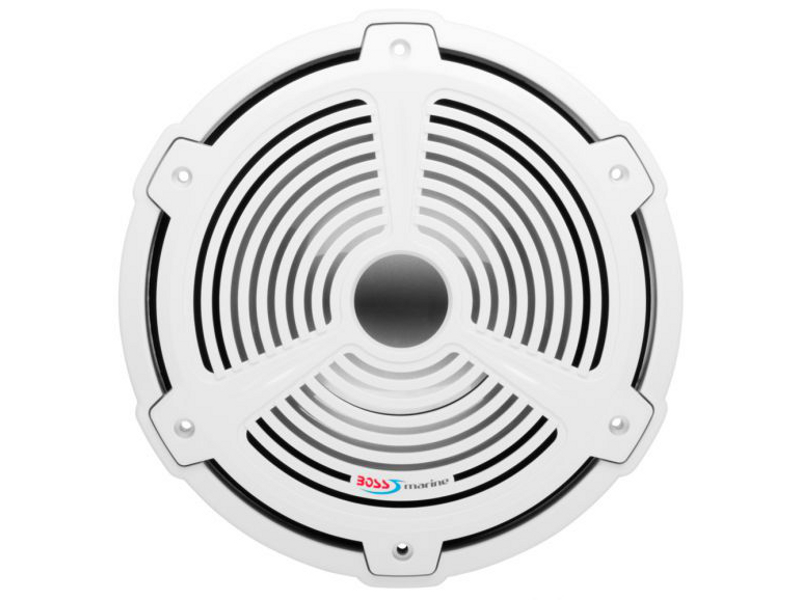 BOSS Marine MR105
Морской сабвуфер
для катера/лодки