Цена: 0,00 грн
Hertz HMR 3 — Marine Audio Entertainment System
Морская аудио развлекательная система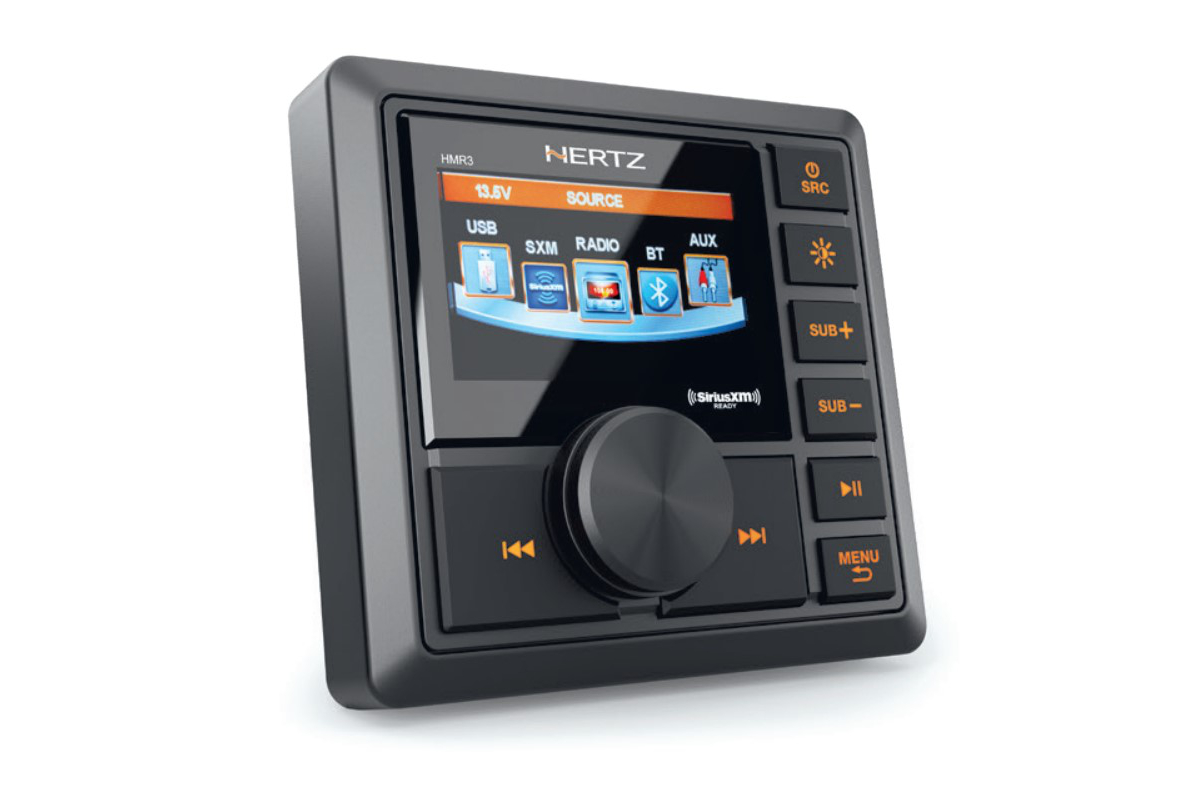 Data table
Display
3" (960x240p)- Full color LCD with bonded screen
IP protection
IP66
Supply Voltage
11 — 16 Vdc
ISO8846/SAE J1171 Ignition Protection Certified
Musical Output Power
4 x 50 W @ 4 Ω
Pre -out channels/level
3 pair (Zone 1,2,3) + 1 sub / 5V peak
FM
87.5 — 108 MHz EU / 87.5 — 107.9 MHz USA
AM
522 — 1620 KHz EU / 530 — 1710 KHz USA
WB
162.400 — 162.500 MHz USA
Sirius XM radio
SXV 300 — Optional module (subscription required)
USB 2.0 — Charging 2.1A
MP3/WMA/Apple Direct USB (Only lightnig devices)
Bluetooth
2.1+EDR / Music streaming A2DP / AVRCP with APP control
Triple Zone function
HTR 3 + HTR 1 optional wired remotes with 30 m (100 ft) cable
Unit Dimension W x H mm (in.)
123 (4.84)
Mounting Hole W x H mm (in.)
79 (3.11)
Mounting Depth W x H mm (in.)
101 (3.98)
Mounting Method
U-Bracket — Screwed
Operating Temp Range ̊C (̊F)
0 to 50 (32 to 10)
Designed to withstand the most extreme marine conditions, HMR 3 source unit is a true incarnation of the "Hertz Pure Marine Certified Product" philosophy.
SiriusXM-Ready™, Audio streaming, Aux-in port, USB port (compatible with a large selection of popular smartphones) convert your deck in a real multimedia environment completed by an FM/AM PLL radio with Marine Weather Band. The large 3" color display remains visible even during daytime navigation and the big buttons make it easy operating with HMR 3 also in motion.
Features
• Hertz Pure Marine Certified Product stamp featuring the IP66 protection grade, ASTM-D4329 standards for UV resistance and ASTM-B117 for salt fog operability.
• Three independent zones, transom wired remote option for operability all around the boat.
• Optional HTR 3 display remote and HTR 1 button remote.
• Marine-grade Full Color 3" LCD with bonded screen featuring battery voltage indicator.
• 7 colors push-button panel and two backlight levels.
• PLL True Marine Radio with multi-format reception FM/AM, Weather Band and automatic memory storing.
• SiriusXM™ ready.
• Wide range of media playbacks including USB audio files reproduction and analog AUX IN.
• 7 bands audio Equalizer featuring 5 presets (CLASSIC/JAZZ/ROCK/POP/OPTIMAL) and one USER CUSTOM adjustment.
• Bass/Treble controls independent to each Zone, Subwoofer adjustable level and crossover (90-120-180Hz/12dB-Oct.) plus Loudness control.
• Dedicated Android/IOS App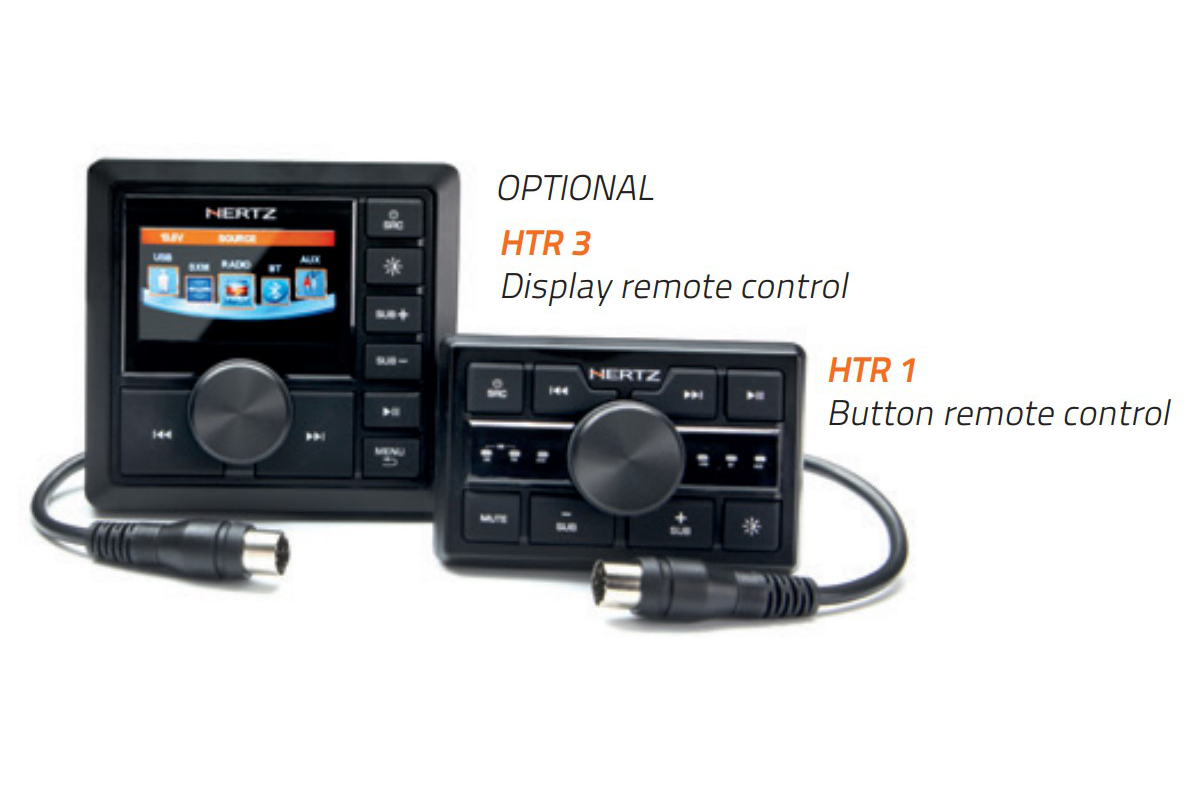 The audio circuits built with selected components feature three pairs of stereo outputs providing the ability to create three independently controlled listening areas, settable via the HTR 3 and HTR 1 remote controls provided. An extra pre-out with adjustable level and filter (90-120 180Hz/12dB-Oct.) allows the addition of a subwoofer.